AGROPRODMASH – number 1 exhibition for the food processing industry in Russia.



AGROPRODMASH is considered to be the largest industry exhibition of achievements in the food and processing industry in Russia and Eastern Europe. The high authority of the forum is confirmed by the participation of world industry leaders from 36 countries, like Germany, Italy, The Netherlands, France, Denmark, Belgium, USA, Austria, Spain, China and major Russian food companies in this prestige show. Since the first edition of Agroprodmash in 1996, its exposition space has more than tripled, the number of exhibiting companies has increased more than twice.

16 thematic salons of AGROPRODMASH exposition cover every sector of the Food processing industry:

from receiving raw products to the manufacture of products ready for sale,including equipment, materials, technology, ingredients, certification,shipping, packaging and storage. For more information >>

FACTS & FIGURES

AGROPRODMASH'2013



Total exposition area –

61.476 sq. m.



Exhibitors -

803

from

36

countries

Visitors -

25 000

from

60

countries

Number of Visits –

25.120


Visitors from

63



National visitors from

900

cities and
towns of the Russian Federation.

For more information >>

The Russian food processing industry

is one of the most significant and rapidly growing branches comprising



60.000

enterprises



142

million consumers


The share of food productions is

24%

of the Russian industry
The Confectionary and Bakery Salon
Baking technologies
Extruders
Mixers
Puff pastry machines
Enrobers
Croissants machines
Knot-shaped biscuits machines
Pasta machines
Bread baking machines
Depository machines
Flour-milling machines
Kneading machines
Moulders
Enrobers
Ovens etc.

The Confectionery and Bakery Salon'2013 featured major international industry leaders including Voskhod Engineering Plant (Russia), Shebekino Engineering Plant (Russia), Sweets Technologies (Russia), Belogorye (Russia), Tehlen (Russia), Golfstream (Russia), OKANT&K (Russia), ITALPLAST (Italy), TECNOITALIA (Italy), BUHLER (Switzerland), Ruskond (Russia), FRANZ HAAS WAFFLE (Germany), L. WOLF (Germay) and BOEHNKE LUCKAU (Germany).
Bakery Salon'2013 Results: Statistics and Testimonials

The Agroprodmash Salon for Confectionary and Bakery Machinery shows sustainable growth
Over the recent years the Confectionary and Bakery Machinery Salon of the Agroprodmash exhibition has been demonstrating a firm growth dynamics. The Salon has doubled its performance figures from what they were in 2009 and has been relocated to new premises - Pavilion No. 3 of Expocentre Fairgrounds.
In 2013, the Salon, held as part of Agroprodmash'2013 on 7th-11th October 2013 at Expocentre Fairgrounds, attracted 75 exhibitors from 13 countries. Its display took up 1620 sqm of exhibition space (net).
One of the positive trends that have emerged this year was a growing share of equipment on display produced by Russian manufactures such as Voskhod, Akmalko Engineering, Sweets Technologies ets. It was the first time in many years that Agroprodmash had attracted Russia's leading manufacturers of confectionery and baking equipment including the Shebekino Engineering Plant and Belogorye.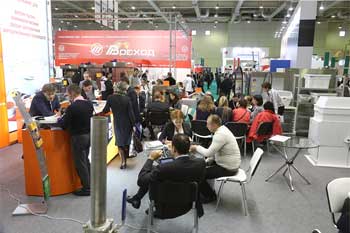 This year, the Salon also welcomed a few new exhibitors, including industry leaders, from other countries. Among them were manufacturers from Italy (FAVA S.p.A., Ricciarelli, Mazzetti Renato srl, Eurosicma spa, Confitech srl, Brovind srl, Cartellon srl, MC Automations srl), Germany (Strecel&Schrader, Kruger&Salecker), Turkey (CRV, Altinbilek Makina) and China (Hundred Machinery Enterprise Co., Ltd).
Another trend at the Salon was a more active involvement of its regular participants. For instance, Russian manufacturers Golfstream and Dito Group considerably expanded the range of products they put on display at the show. The OKANT&K Company, which regularly shows its products at the Meat and Fish Processing Machinery Salon, this time presented its line of machinery for the baking industry.
The growing interest in the Salon can be accounted for by a broader array of equipment on display, but not only that, new forms of product presentation have been adopted. This year, British engineers from the MONO Company staged a master class featuring the latest Mono Omega Plus depositor machinery on the stand of their Russian partner the Golfstream company; and the event drew lively interest from visitors.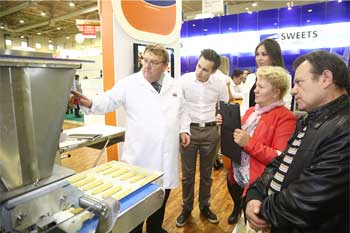 The programme of business-related events has been expanded, too. Agroprodmash'2013 featured the first edition of the industry forum Confectionery and Bakery Market in the Changing Conditions, organized by Confectionery and Bakery Manufacture Journal (Trade Journals Publishing House).
Exhibitor Testimonials
Artur Moiseyev, first deputy director, the Shebekino Engineering Plant OAO
'We have brought over working samples of our equipment and it is paying off. Production specialists and heads of companies who visit our stand can evaluate our equipment and how it operates here and now. All in all, Agroprodmash is attended by quality audience, there are no curious idlers here - a big thank-you to the organizers for that. The exhibition is well organized, for example we offer machinery for making biscuits (tunnel ovens, kneading machines, coolers etc.), another stand shows enrobing machinery, there is a big packaging salon, too, and quality control equipment is also here. So what we have here is a technological chain. A very convenient format - a one-stop shop offering a comprehensive range of solutions.'
Taras Koval, Director General, Golfstream
'Agroprodmash'2013 has marked another successful stage in the development of our company and we are going to enhance our exhibition activity. It was the first time that Gerald Barker, Chief Service Engineer of the MONO Engineering Plant (UK) had run master classes showing the potential of MONO depositor machine, which generated great interest among visitors. Altogether, we presented 29 different machines including STORM bread slicers and ORION machinery for filled products.
During the show our stand welcomed more than a thousand visitors, including existing partners and customers, and prospective ones. Comparing to the previous edition, the geographical scope of business leads has expanded with specialists from north-west Russia and neighbouring countries, who joined the regular attenders of the show - bakers and confectioners from the south of Russia and the Volga region.'
Mikhail Volovnik, Head of CRV bakery:
'This has been our first Agroprodmash show and we would like to thank the organizers for efficiency and attention.
A great show with high quality visitors. We held all scheduled meetings with partners and clients, established lots of new contacts and even signed a few sale contracts for equipment we were exhibiting on stand. For instance, KTM-1 dough-dividing machine was sold on the first exhibition day.
Our stand was a platform where our own technologists and guest technologists from our partner Solpro Company were demonstrating their art. The aroma of fresh bakery drew crowds of visitors to our stand, which turned into a consulting centre for selecting machinery and equipment, and baking technology. All master classes by our technologists are fully booked till New Year.
Summing up the results we can definitely say that the show has been a success for us and we look forward to returning next year.'
Olga Yampolskaya, Head of Marketing Department, Kostamash OOO
'I'm delighted to note high visitor numbers, lots of prospective customers. We have been very busy throughout the exhibition and expect high return on investment. I believe that a trade show is an indispensable tool for the B2B market. Other means of promotion including the Internet and printed media are important, no doubt, but they don't give you an opportunity to meet customers face to face. A customer wants to see equipment for real, how it operates, if only in the test mode, and an exhibition can give them this unique chance. Agroprodmash attracts specialists from across Russia, the CIS and other countries, so it is an efficient platform for sourcing new clients and strengthening existing relations. The high reputation of the show is an important factor too. By participating in Agroprodmash a company consolidates its status of a major player with long-term goals. I think it is a must attend show for generating leads and enhancing brand awareness.'
Dmitry Kornev, Head of Grain Logistics Department, Bühler AG
'Agroprodmash is a representative gathering of manufacturers of food machinery from Russia and other countries; it attracts high numbers of visitors, and, consequently is very important for food manufacturers. We regularly take part in Agroprodmash, with stable results, and we are happy with that.'