AGROPRODMASH 2021 Results
---
Exhibitors
739 Exhibitors, 32 Countries
446 Russian companies
293 Foreign companies
Countries: 32
Austria, Belarus, Belgium, Bulgaria, Canada, China, Czechia, Denmark, Finland, France, Germany, Hungary, Iceland, Ireland, Italy, Japan, Lithuania, the Netherlands, Poland, Portugal, Qatar, Russia, Serbia, Slovenia, South Korea, Spain, Switzerland, Tajikistan, Turkey, the UK, Ukraine, the USA.
National pavilions:
Germany and Italy.
Russian national group stands and pavilions
The Republic of Tatarstan, the Altai, Krasnodar and Stavropol Krais, the Samara, Tula, Omsk, Penza, and Voronezh Oblasts.
Frequency of participation
Participation objectives (person)*
Generate customers/increase sales
Sign contracts/agreements
Promote your products/services
Get information about new products/analyse market
Implement investment projects
---
*Multiple replies possible
High ROI from participation
Met their objectives at the trade show
Satisfied with business leads
Would recommend Agroprodmash to their partners
Expect positive post show results
Visitors
21,134 visitors
65 countries, 84 regions
76.2% of the visitors have buying authority or give buying recommendations.
Visitor job function
Visitors plan to make purchases after the exhibition
89.1% of the visitors plan to make purchases after the exhibition.
Frequency of visits
Company's main business activity
Visitors by industry sectors
Food and beverage production
Agribusiness, agriculture; production/supply of raw materials and farm produce
Production/supply of equipment and components
Setup, installation, maintenance of equipment
Production/supply of ingredients, additives and spices
Food and beverage wholesale/retail
Investments, education, advanced training, retraining
Sanitation and hygiene, food safety, waste management
Transportation and storage
Bottling, pre-packing, packaging
Visitor geography
52.1% – Moscow and Moscow region
41.1% – Other regions of all Russian federal districts
6.8% – Other countries
---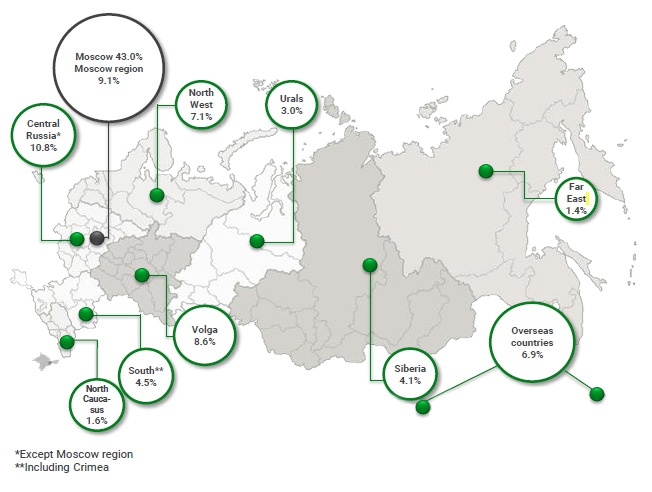 Overseas countries - 1.8%
Germany – 0.4%
Italy – 0.3%
Other countries – 1.1%
CIS countries - 5.1%
Belarus – 1.9%
Uzbekistan – 0.7%
Kazakhstan – 1.0%
Other CIS countries – 1.5%
High visitor satisfaction figures confirm a strong ROI
of the visitors met objectives and consider their attendance effective
of the visitors would recommend Agroprodmash to partners and peers
of the visitors are satisfied with the quality of the exhibitors
Purpose of visit*
Learn about new products and technology
Sign contracts/agreements/ purchasing
Generate new business contacts
Receive and compare proposals
Assess the industry's current state
Search for solutions to improve your business
Implement investment projects
---
*Multiple replies possible
Products/services Visitor interest, people
Food production equipment – 8,726
Packaging equipment and materials – 8,181
Filling equipment – 5,558
Ingredients, additives, spices – 4,868
Equipment for production of ingredients – 1,411
Formulas, recipes, technologies – 3,908
Refrigeration and air-conditioning equipment – 4,445
Slaughtering equipment, preliminary meat processing – 3,187
Production automation. Integrated engineering solutions – 3,069
Portioning equipment – 3,129
Capacitive equipment – 2,018
Bottling equipment – 2,474
Warehouse equipment – 2,932
Food safety. Quality control – 2,902
Weighing equipment – 2,777
Components, machinery and materials for food industry equipment – 2,472
Sanitation and hygiene – 2,466
Integrated solutions and services for the food industry – 2,229
R&D – 2,132
Test and laboratory equipment – 2,127
Production tools – 2,098
Recycling and waste management – 1,717
IT, software – 1,632
Construction and reconstruction of food processing facilities – 1,438
Fodder – 1,020
Investments. Construction in the food industry – 810
Leasing, credits and investments in agriculture – 654
---