AGROPRODMASH – number 1 exhibition for the food processing industry in Russia.



AGROPRODMASH is considered to be the largest industry exhibition of achievements in the food and processing industry in Russia and Eastern Europe. The high authority of the forum is confirmed by the participation of world industry leaders from 36 countries, like Germany, Italy, The Netherlands, France, Denmark, Belgium, USA, Austria, Spain, China and major Russian food companies in this prestige show. Since the first edition of Agroprodmash in 1996, its exposition space has more than tripled, the number of exhibiting companies has increased more than twice.

16 thematic salons of AGROPRODMASH exposition cover every sector of the Food processing industry:

from receiving raw products to the manufacture of products ready for sale,including equipment, materials, technology, ingredients, certification,shipping, packaging and storage. For more information >>

FACTS & FIGURES

AGROPRODMASH'2013



Total exposition area –

61.476 sq. m.



Exhibitors -

803

from

36

countries

Visitors -

25 000

from

60

countries

Number of Visits –

25.120


Visitors from

63



National visitors from

900

cities and
towns of the Russian Federation.

For more information >>

The Russian food processing industry

is one of the most significant and rapidly growing branches comprising



60.000

enterprises



142

million consumers


The share of food productions is

24%

of the Russian industry
«Bakery Equipment» Salon
AGROPRODMASH: Bakery products are popular among all categories of consumers. The Bakery Equipment Salon demonstrates everything connected with it:
Baking technologies;
Dough processing;
Extruders;
Mixing machines;
Rollers and cylinder-rolling machines;
Automatic puff-pastry machines;
Bread roll machines;
Pustry-making machines;
Pasta equipment;
Bakery equipment (baking and storage racks; conveyor belts and systems).
Among the major International exhibitors in this thematic salon are such leaders of the industry as: AWEMA AG, HANS BRUNNER GmbH, ITALPAST, WOLF SPEZIALMASCHINEN, ROSOMA GmbH, VOMATEC, TREIF MASCHINENBAU, MAERTENS TRANSPORTBAENDER GmbH, FRANZ HAAS WAFFLE, HIGEL KAELTETECHNIK, BOEHNKE LUCKAU and others.
AGROPRODMASH trade fair photos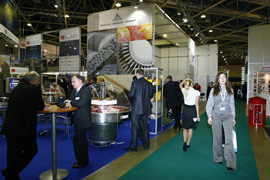 FRANZ HAAS WAFFEL – Bakery equipment