Thematic Salon Refrigerating & HVAC Equipment Moscow
Agroprodmash: Number One Exhibition for the Food Processing Industry in Russia
Salon of Refrigeration and Climate Control Equipment
Participants are the industry leaders
Countries in attendance: Finland, Germany, Italy, Russia, Sweden.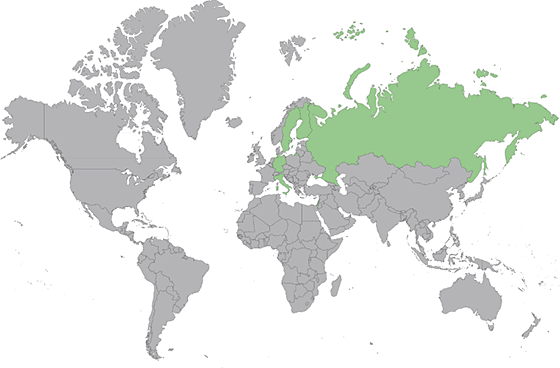 Product Sectors
Commercial refrigerators and freezers
Compressor condensing units
Refrigerating and cooling agents, industrial gases
Refrigeration oils
Refrigerated and freezing warehouses, cold storages
Chest freezers, refrigerated wall cabinets, merchandising refrigerators, refrigerated display cases
Cold generation, freezer units, special purpose refrigerators, icemakers, ice accumulators
Special purpose transport: refrigerator trucks, controlled temperature transport
Heat exchange units, cooling towers, evaporators, condensers
Ventilation and A/C systems, wall split sir conditioners
Insulation for heat and cold, sandwich panels
High speed doors
Salon Key Trends
The growth in production of food raw materials, foodstuffs and beverages increases demand for freezers and refrigerators.
Participants include Holod Express, Agro-Prom-Holod, Holtec, Profholodsystems, New Line, Kriotek, Cooltech Finland OY, Technomir, Holod, Veza, CK Project, and NSK.
List of participants
Associated Events
The Conference on Energy Efficient Refrigeration for Agriculture Industry organized by the Russian Union of the Refrigeration Industry Enterprises ROSSOYUZKHOLODPROM
October 6, Pavilion 2, Seminar Hall 5
Tel. + 7 (495) 621-02-27
E-mail:
holod@rshp.ru
Visitor Statistics
Results of Agroprodmash 2017
Facts & Figures*
808 exhibitors, including 450 Russian exhibitors
37 countries
Australia, Austria, the Republic of Belarus, Belgium, Bulgaria, China, Czech Republic, Denmark, Finland, France, Germany, Greece, Hungary, Iceland, India, Ireland, Israel, Italy, Japan, the Republic of Korea, Latvia, Lithuania, the Netherlands, Norway, Poland, Russia, Serbia, Slovakia, Slovenia, Spain, Sweden, Switzerland, Tajikistan, Turkey, the USA, the UK, Ukraine
National pavilions of Germany, Poland and China
24,192 visitors from 66 countries and 910 Russian cities from all over Russia
*Source: official event audit
Source: Russian Public Opinion Research Center
Exhibitor profile:
Manufacturers and suppliers of food production equipment – 74%
Manufacturers and suppliers of packaging equipment – 37%
Manufacturers and suppliers of ingredients, additives, spices – 25%
Manufacturers and suppliers of auxiliary equipment – 14%
Manufacturers and suppliers of raw and auxiliary materials – 5%
Assembly/setup/maintenance of equipment – 18%
Design/engineering – 12%
Construction and fitting out of food production facilities – 4%
Food safety, quality control, sanitation and hygiene – 3%
R&D – 2%
Automation, IT – 2%