Confectionary, Bakery & Pasta Technology
The Confectionary and Bakery Salon is one of Russia's largest showcases
It is one of the Agroprodmash fastest growing salons
Participants are the industry leaders
Countries in attendance: China, the Czech Republic, Germany, Italy, the Netherlands, Russia, Sweden, Switzerland, Turkey, the UK, the USA.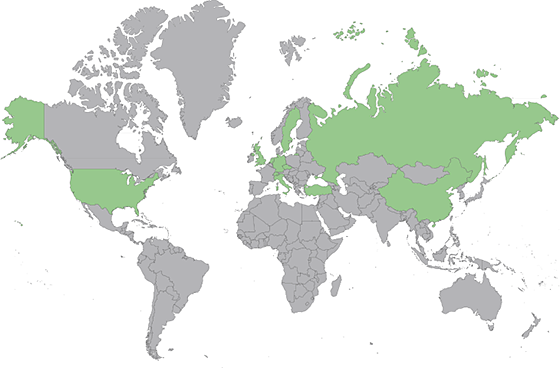 Product Sectors
Bakery equipment
Extruders
Mixing machines
Puff pastry making machines
Dough moulders
Crescent-roll making machines
Pretzel making machines
Pasta equipment
Bread making equipment
Bread slicers
Dosing machines
Flour milling machines
Dough mixing machines
Moulding machines
Glazing machines
Pastry ovens
Confectionary and chocolate making machines
Ice cream making equipment
Cone baking ovens
Coffee and tea equipment
Ingredients
Salon Key Trends
Quality change in the participants testifies to a positive upward trend in the Salon development. The number of the companies manufacturing confectionary and bakery equipment is growing. Participation concept also changes: more and more exhibitors showcase their equipment in operation.
The Salon sustainable development is confirmed by regular participation of the exhibitors whose number increases year by year.
Participants
Participants: Voskhod (Russia), RONDO (Switzerland), Shebekinsky Machine-Building Plant (Russia), Shokolend (Sweets Technologies) (Russia), Belogorye (Russia), Tehlen (Russia), Golfstrim (Russia), Okant Company (Russia), Italpast (Italy), Tecnoitalia (Italy), Buhler (Switzerland), Ruskond (Russia), Franz Haas Waffel (Germany), Lothar A. Wolf Specialmaschinen GmbH (Germany), Bohnke & Luckau (Germany), Gerhard Schubert GmbH (Germany), Celsan Makina, Taysan, Alhan-Cagri (Turkey), Sandvik (Sweden), Tromp (the Netherlands), AMF (USA).
Visitor Statistics
Results of Agroprodmash 2017
Facts & Figures*
808 exhibitors, including 450 Russian exhibitors
37 countries
Australia, Austria, the Republic of Belarus, Belgium, Bulgaria, China, Czech Republic, Denmark, Finland, France, Germany, Greece, Hungary, Iceland, India, Ireland, Israel, Italy, Japan, the Republic of Korea, Latvia, Lithuania, the Netherlands, Norway, Poland, Russia, Serbia, Slovakia, Slovenia, Spain, Sweden, Switzerland, Tajikistan, Turkey, the USA, the UK, Ukraine
National pavilions of Germany, Poland and China
24,192 visitors from 66 countries and 910 Russian cities from all over Russia
*Source: official event audit
Source: Russian Public Opinion Research Center
Exhibitor profile:
Manufacturers and suppliers of food production equipment – 74%
Manufacturers and suppliers of packaging equipment – 37%
Manufacturers and suppliers of ingredients, additives, spices – 25%
Manufacturers and suppliers of auxiliary equipment – 14%
Manufacturers and suppliers of raw and auxiliary materials – 5%
Assembly/setup/maintenance of equipment – 18%
Design/engineering – 12%
Construction and fitting out of food production facilities – 4%
Food safety, quality control, sanitation and hygiene – 3%
R&D – 2%
Automation, IT – 2%