24 / 08 / 2017
Dutch Protein & Services International bv: let's bring the future now!
Every year in autumn Moscow holds the biggest event for the food and processing industry, the "Agroprodmash" exhibition. This time, the Agroprodmash is taking place from 9 to 13 of October.

Dutch Protein & Services International bv (www.dpsfood.nl) is participating!
DPS is a company with more than 50 years' experience in the field of food ingredients. The company is active all over the world with exports to over 22 countries. The company's range of customers includes global food industries, supermarket-, and restaurant chains. DPS is actively represented in the Russian market since the last 15 years, and has an always increasing focus on her customers.

Recent surveys and claims of many food producers in Russia, indicate the turn of consumers' and food specialists' (HoReCa/food service) choices towards further processed products. DPS has years of experience, specialized products, innovative ideas and proposals for this rapidly growing sector.
DPS comes first in your mind for a serious and specialized partner when it comes to further processing. 50 years of experience in meat, poultry, fish, vegetables, dairy and combinations of the above. Product characteristics can include non-cooked, pre-cooked or pre-fried products that are distributed fresh or frozen. Specific customer and product requirements can be met such as friendly labeling, with or without the use of E-numbers, allergen free, low fat or low sodium, Halal, Kosher and even organic certified. DPS fulfills the latest trends in marinated products, minced meat products, reformed products, fillings, and coatings to name some examples.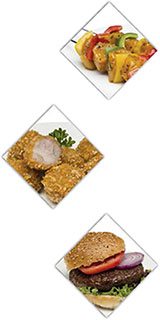 DPS supplies integrated solutions:
stabilizers
binding systems
injection and tumbling systems
marinades
seasonings
coating systems
many others
The DPS products are adapted to cover the basic/primary expectations such as structure, taste, appearance, and cost but also secondary expectations such as innovativeness and attractiveness are met both for direct and indirect customers.
Do you want to take steps forward and stand out in further processing? We welcome you to the DPS stand 3F90 on pavilion 3 during the "Agroprodmash 2017".
If you want to plan your time schedule during the exhibition, please contact us in advance per email: mbadalyan@dpsfood.nl

print version