09 / 10 / 2017
Russia's dairy industry: new requirements and forecasts. Russian Dairy Forum held on Agroprodmash 2017 sidelines
The 12th Russian forum, 'Innovation technologies and dairy industry equipment,' was the first event of the business program of the 22nd international exhibition Agroprodmash 2017, which opened at Expocenter on Krasnaya Presnya today.
The forum is an acknowledged official business platform addressing dairy industry problems. It was organized by the Imperia Convention and Exhibition Company (KVK Imperia) with the support of Expocenter. Traditionally, it is attended by heads of dairy factories, equipment manufacturers, analysts, dairy production modernization specialists, marketing experts, and dairy industry professionals.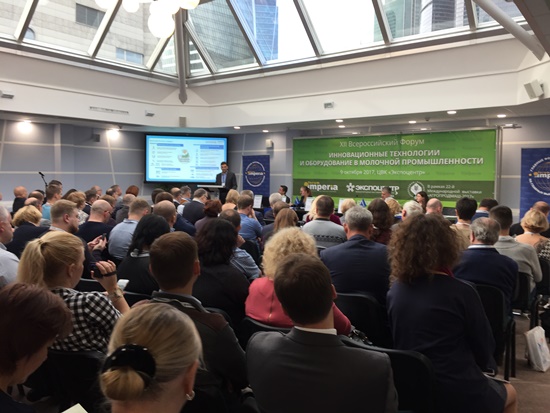 The forum's plenary session was dedicated to the situation on the dairy industry market and the most pressing problems of the industry.
"The price of end products has grown a lot, which has reduced the demand and consumption of milk per capita," National Dairy Producers Union (Soyuzmoloko) Deputy Chairman Andrey Danilenko said. "Despite the substantial exports potential, the exports of dairy products have also shrunk."
The government has increased attention to the dairy industry. The scope of government support to dairy cattle farming has grown; mostly, the high cost of loans is being compensated.
The rivalry is rather tight on the Russian dairy market, and it will continue to heighten, Danilenko said. The competitive edge of the domestic dairy industry comes to the forefront, he said.
The forum's technological sessions addressed ways of fostering the competitive edge of domestic dairy factories, production automation, the implementation of innovations and information technologies in the dairy industry, and a number of other issues. Industry leaders presented latest dairy industry technologies, and the most successful producers shared their practices of modernizing dairy factories, including by means of subsidies received from the government for modernizing dairy production technologies, as well as choosing equipment suppliers.
Forum participants had a chance to ask any question of their interest and receive a professional answer.
Exhibition website http://www.agroprodmash-expo.ru/
JSC Expocenter press service

print version