Forum on Food Processing Machinery at Agroprodmash 2023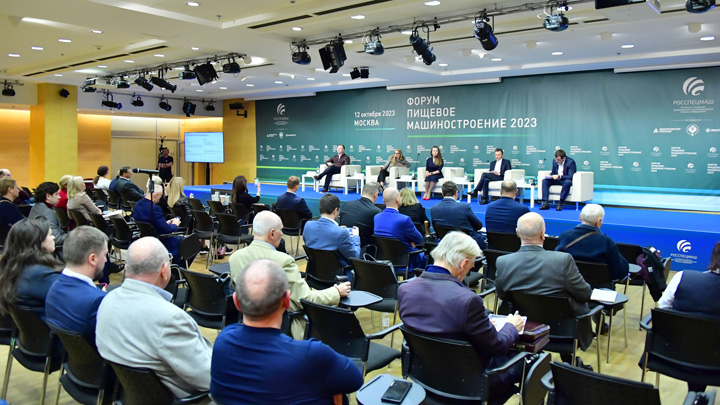 The programme of the fourth day of the Agroprodmash 2023 exhibition was continued by the 7th Forum on Food Processing Machinery 2023 organised by the Rosspetsmash Association and the Russian Ministry of Industry and Trade.
Konstantin Babkin, the moderator of the Forum plenary session, President of the Rosspetsmash Association, defined the main topic of the discussion: From Sustainability to Development. Giving an overview of the state of affairs in the domestic special machine building industry in general and food processing machinery in particular, he noted the multidirectional trends that determine the current state of affairs in the industry.
"The market has been growing steadily in recent years," emphasised the speaker. "For the first eight months of 2023, we also see positive market trends compared to 2022: plus 79% by the industry and plus 34% by production. Exports are growing. At the same time, imports are growing at a tremendous pace."
Konstantin Babkin dwelt in his speech on the issues of ensuring technological independence of domestic food production, which can only be done with purposeful and sufficient government support of the technological development of the industry. He called on the Russian food and food processing companies represented at the Agroprodmash 2023 exhibition to become more involved in the activities of the Rosspetsmash Association in defending their interests in terms of providing systemic state support for import substitution and localisation processes.
Ilya Boyko, Project Head of the Competence Centre for Import Substitution in Manufacturing Industry at the Agency of Technological Development ANO, and Maria Yolkina, Director of the Department of Agricultural, Food and Road Construction Engineering of the Russian Ministry of Industry and Trade, who moderated the Forum's separate session dedicated to automation and robotisation of food production, also addressed the issues of state support for food and processing machinery.
The Forum included speeches by the heads of food machinery companies, who shared their assessments of the present situation in the industry and expressed their views on the necessary measures to ensure further sustainable industry growth.
Press Service, EXPOCENTRE AO
---