Agroprodmash 2022 master classes: how to ferment cabbage and much more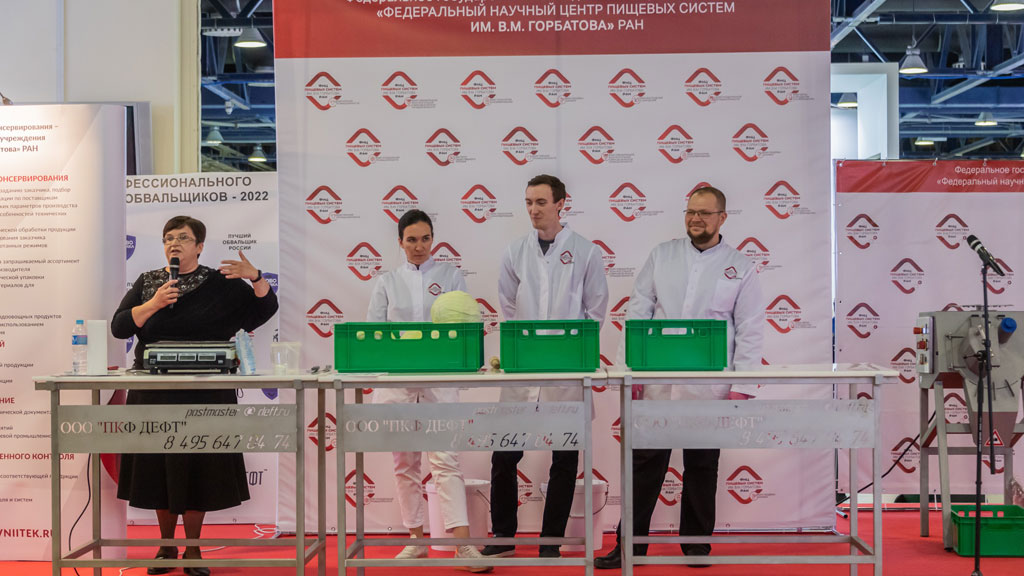 A number of master classes were held as part of Agroprodmash 2022.
For the first time, the Russian Research Institute of Canning Technology held a master class on vegetable fermentation at the exhibition for small farms, agrofirms, medium and large processing enterprises, storage facilities and the widest possible audience.
Cabbage was chosen as an illustrative and popular example. Natalia Posokina, head of the Institute's canning technology laboratory, explained that cabbage is now in season. Besides, according to her, sauerkraut can be classified as a functional product. It is both prebiotic and probiotic, as it contains large amounts of fibre, as well as lactic acid microorganisms.
The scientific staff of the institute gave a clear demonstration of the main technological steps in the preparation of sauerkraut. They also gave comprehensive expert answers to key production questions. Namely, what kind of raw materials should be used for sauerkraut, what factors influence the quality of sauerkraut products, how to avoid spoilage, how to control the fermentation process, what the storage conditions and shelf life of sauerkraut products should be, and what equipment is needed.
At Agroprodmash 2022, the Baking Academy of the Research Institute of the Baking Industry offered a series of master classes on topics ranging from "Innovative ingredients in the baking industry as an effective way to reduce production costs" to "A modern approach to taste formation for bakery and flour confectionery products".
The Tauras-Fenix company, the Russian leader in the production of filling and packaging equipment for the food industry, organised an educational and familiarisation event for students of specialist universities at its stand. The representatives of the machine building plant acquainted the future specialists of the industry with novelties designed for packing of liquid, pasty and granular products. There was a demonstration of the equipment in action - the product packaging process.
Press Service, EXPOCENTRE AO
---