Agroprodmash 2020 reports increase in visitor numbers
01 / 09 / 2020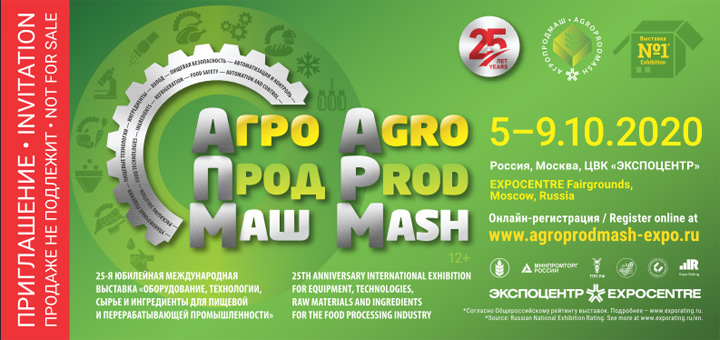 The number of registered visitors with e-tickets to Agroprodmash 2020 has already surpassed the 2019 figures.

"As of today, we see that the industry professionals show an increased interest in Agroprodmash 2020. Every day the number of visitors registering and getting e-tickets to the show is higher than it was last year. This trend has continued since the start of the registration, in other words for a little over the month," says Head of EXPOCENTRE's Food Exhibition Division Tatiana Piskareva.

As now required by Rospotrebnadzor, all visitors have to register at https://www.agroprodmash-expo.ru/en/visitors/ticket/ before attending the show.

The show organiser, EXPOCENTRE AO, is ready to provide the necessary epidemiological safety for all exhibitors and visitors. EXPOCENTRE's technical capabilities allow to maintain a safe distance between people, regulate the flow of visitors, and provide additional disinfection.
The 25th edition of the Agroprodmash International Exhibition for Equipment, Technologies, Raw Materials and Ingredients for the Food Processing Industry will run at EXPOCENTRE Fairgrounds, Moscow, Russia, on 5–9 October 2020. 
Information:

EXPOCENTRE organises Agroprodmash with the support of the Russian Ministry of Agriculture and the Russian Ministry of Industry and Trade, and under the auspices of the Russian Chamber of Commerce and Industry.

Agroprodmash is the largest business platform for the food and food processing industry in Russia and the Eurasian Economic Union. Its high standing is confirmed by the Russian National Exhibition Rating and certificates of UFI, the Global Association of the Exhibition Industry, and RUEF, the Russian Union of Exhibitions and Fairs.
The show's unique feature is its wide products coverage: here one can find everything from production of raw materials and ingredients to manufacturing of final products, packaging, quality control, refrigeration, storage, and logistics. Equipment, ingredients and comprehensive technological solutions for all sectors of the food processing industry are demonstrated under one roof.
---