Thematic Salon Rybpromresurs Moscow
Agroprodmash: Number One Exhibition for the Food Processing Industry in Russia
Salon of Equipment for Processing Fish and Seafood, Fishery, Fishfarming.
Participants are the industry leaders
Countries in attendance: Austria, Belarus, Belgium, Canada, China, Denmark, France, Germany, Iceland, Ireland, Italy, Japan, Latvia, Lithuania, the Netherlands, Poland, Russia, Spain, Sweden, Turkey, the UK, the USA, etc.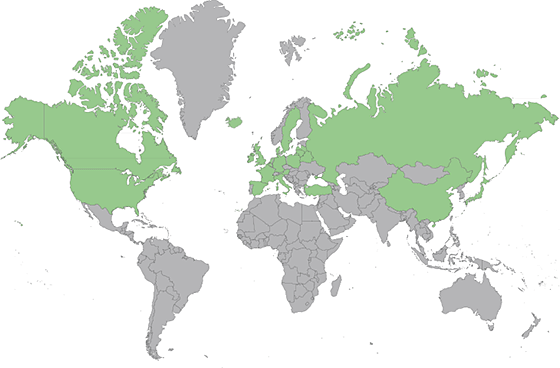 Product Sectors
Equipment for fish and seafood processing
Heat treatment equipment
Fish cutting, grinding and mincing machines
Raw materials
Ingredients
Aquaculture
Ship's equipment
Transportation
Packaging equipment
Cooling, freezing and storage equipment
Quality control
Salon Key Trends
In recent years suppliers and manufacturers of equipment for primary processing have become more active. It is caused by the lack of facilities on the Russian fish processing market.

The Salon sustainable development is confirmed by regular participation of the largest national and international companies which showcase their equipment for each stage of fish processing as well as ingredients, package materials and promising technologies.

Each year more and more participants take part in the Salon. Thus, in 2014 the Salon incleded Nikko, a new company that supplies fish processing equipment from Japan.
Among the major Salon participants there are Kometos, Marel, Delta, Baader, EMF, Lipsia, Maja, Suhner, Treif, Schröter Technologie GmbH & Co. KG Peruza, Antes, Perspektiva, Prodmashservis, Okzo-Ost, Initsiativa, Duco-Technik, MM Pris, Schaller, KS Vityaz, Agros, Sibtex.
List of participants
Visitor Statistics
Visitor Geography
32% Moscow and Moscow Region
64% Russian Regions and the CIS
4% Other countries  
The trade show welcomed visitors from more than 1,000 cities of all Russian federal districts and 60 countries.
Visitor Profile
53% CEOs/company owners
27% Mid-level executives
20% Managers, industry specialists
The trade show welcomed visitors from more than 1,000 cities of all Russian federal districts and 60 countries.
Industry Groups of Visitors
41% food and beverage production
25% production and maintenance of food industry equipment
19% wholesale/retail of food/beverages
15% HoReCa, catering, logistics, customs clearance, warehouse and related sectors
Professional Recognition
2/3 visitors give preference to Agroprodmash.
Exhibitor Appraisal
80% of exhibitors achieved their goals and marked high efficiency from exhibiting.